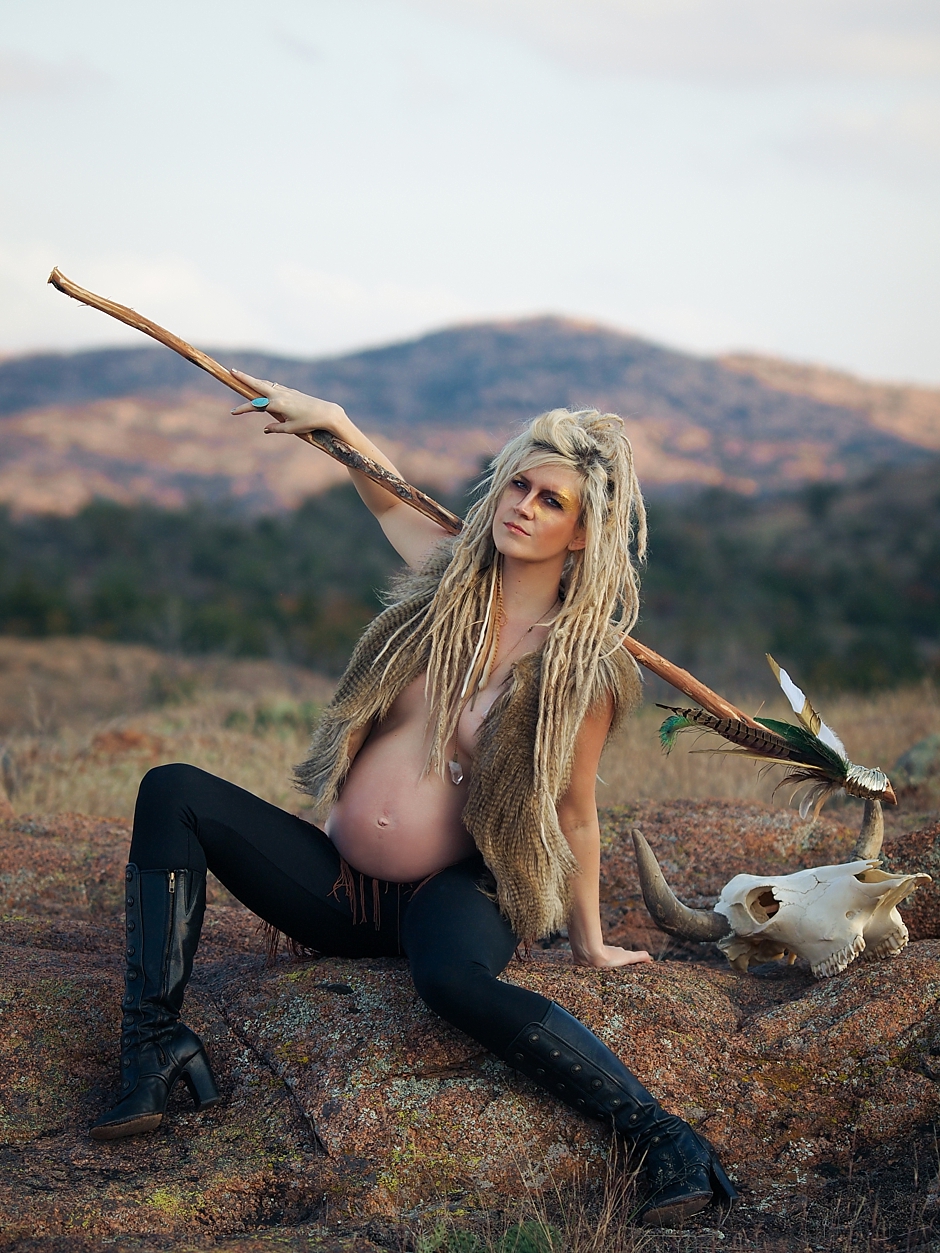 She once described her style as "Viking Warrior Princess meets the Apocalypse" or something almost like that.  And yet Kathleen Shannon of &Kathleen and Braid Creative is also a modern powerhouse helping other creatives carve out their place in the present world.  This past-present-future vibe was inspiration for epic maternity portraits.
Kathleen is also a proud champion of Oklahoma. (Cue sweeping Oklahoma landscape.)  She has a warrior spirit that is expanding along with her baby bump. (Enter strong warrior references: the Amazons of Greek mythology, Mad Max, Viking Warrior Princesses, and the Cherokee heritage that both Kathleen & I share.)  While we are both native Oklahomans with Cherokee blood running through our veins, we didn't set out to create a specifically Native American concept.  Although we certainly wanted to celebrate and respect that heritage. (Insert several emails discussing how to honor our heritage in a sensitive way, especially since we look like two white girls.  Special thanks to my friend Catherine Foreman Gray, a History & Preservation Officer at the Cherokee Nation, for her guidance.)  Rather, this concept is a fusion of Warrior Mama: past, present, and future. The whole "dust we are from" meets "modern Kathleen" meets "apocalyptic heroine".  And I'm crazy proud of what Kathleen & I created together.
These conceptual portraits make a huge statement about Kathleen and her personal journey into motherhood; but like all good art they say as much about the universal human journey.  I wanted to create a portrait experience that was about beauty, grace, and strength – one that would spotlight a ferocious love and symbolize the coming adventure.
Hidden in the glorious wildness like unmined gold. – John Muir
I love to name my portrait experiences.  Sometimes it is sparked by something running through my head during the shoot and other times I dig for just the right thing.  So when I read the quote above, I immediately felt a connection to the heart of this portrait experience.  The future with Kathleen's sweet boy is exactly that – hidden; a gloriously wild adventure in the great unknown.  But it will be such a treasure, even on the days that seem like the roughest of gold fragments.  Parenting is amazing, wild, glorious, and precious.  And a whole lot of other hard stuff, but mostly gold.
To the wild & glorious,
M
P.S.  You can read Kathleen's thoughts about her portrait experience here.
P.P.S.  Stay tuned for part two, where we show off more of the Warrior Mama's soft side.